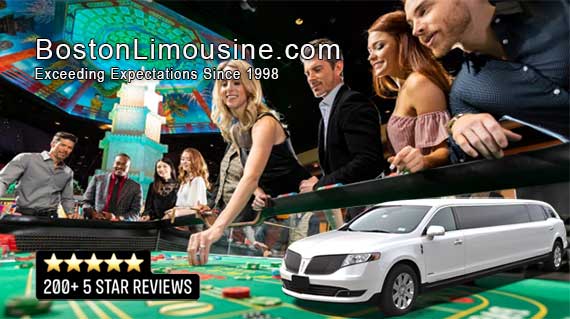 "Transportation Limo and Car Services: We love Boston and want you to love your VIP experience here."

The Encore Boston Casino is one of the most beautiful landmarks in Boston. Its restaurants are exotic, wedding banquets and meeting spaces are luxurious and the indoor gardens make you feel that it is spring all year long. In addition to that, you can find some affordable restaurants where you can eat and enjoy a delicious meal at an affordable price.
Encore Boston Resort and Casino is a new luxury resort and casino that is built just five miles away from Boston Financial District. In addition to its casino, the resort includes many spas, a hotel with 671 rooms, restaurants and retail outlets. The Encore Boston Casino opened its doors in June 2019 and it is the biggest construction project ever built in the Commonwealth of Massachusetts.
Every resident in Massachusetts from North to South and West was looking forward to the opening date of the Wynn Casino. The Harborwalk is the go-to destination for families to enjoy a beautiful sunny day. You don't have to be a guest at the Encore Boston Harbor to enjoy the walk. It is open to the public. You can plan to spend few hours inside this luxurious hotel and casino. Who knows maybe you get lucky!
We also serve to Mohegan Sun and Foxwoods Casino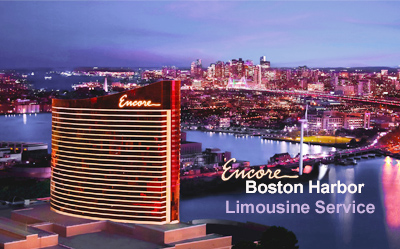 Getting to the Encore Boston Harbor Hotel and Casino is made easier by using many modes of transportation: the Water taxi, the Ferry, the Bicycle, the train and of course your own car or your limousine

The water Taxi will bring everyone to anywhere at Boston Harbor. There is also a dock for private boats. The ferry stops with connections to the World Trade Center and Long Wharf will be included in the Harborwalk. A bridge for pedestrians and bicyclist is built over the Mystic River. The Orange Line will have more trains run during a specific time of the day. The 2,900 parking spots will be available for all cars and limousines.
As for your most convenient, personal and private mode of transportation, a black sedan town car or the stretch limousine, Boston Limousine will be your company to call and arrange for the casino car service that you desire and make sure you arrive in style and at your desired time to this beautiful casino. You will not have to get in your car and rush to catch a train or a shuttle. Boston Limousine provides a door to door service with reasonable prices. We will pick you up from your home and drop you off at the Casino. We can either wait for you or just leave and come back and pick you up from the Casino.

Boston Limousine, just like Encore Boston Resort and Casino, offers a 5-star service from start to finish. Our excellent customer service representative will help you book the vehicle that you want with the best prices. Then your chauffeur will arrive at your door, dressed in a black suit and white shirt and will welcome you inside the spotless beautiful vehicle that you booked. Our stretch limousines will have ice and water and glassware available for you. Bring your favourite drink and start the excitement from the minute you step outside your house.
Encore Boston Harbor Premium Car Service